Quality Outdoor Awnings & Blinds
Quality Outdoor Awnings & Blinds at Great Prices
Extend your outdoor living and entertaining areas with U Blinds Folding Arm Awnings.
The counter levered design means, apart from string fixing on the wall or structure you are fixing to, you don't require any support posts or an additional structure.  You can enjoy the shade when it is folded out or roll away and the awning disappears when you don't need it.
Our Folding arm awnings can be operated manually or for complete control they can be motorised with a sensor to retract when you are not there.
These retractable awnings come in over 50 fabric colours and patterns and are made from long lasting water and UV resistant material – designed to complement any external façade and withstand Australia's changing weather conditions.
U Blinds has folding arm awnings to suit most applications and budgets.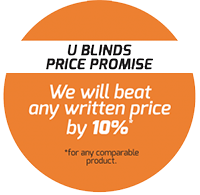 Why choose retractable awnings for your home?
Extend your outdoor living space with a range of styles and price ranges all available from U Blinds.
Retractable awnings offer a large range of fabric solutions to suit any style and application.
Motorised with Remote Control
U Blinds exclusive Barcelona Folding Arms Awnings are motorised as standard with remote control.
Available in varying widths.
Looking for folded arm awnings for your home?
Browse our range online to request a free measure and quote and we'll get back to you shortly.
Or if you have any questions about our products or services or whether retractable awnings are right for your home, give us a call on 1300 303 391 to chat with an awning folding arms expert or visit us in person at your nearest showroom.
Frequently Asked Questions
There are many benefits to folding arm awnings that make them worth your time and money. As with most types of outdoor awnings, folding arm awnings too improve the energy efficiency of your property by giving your more control over how much sunlight (and consequently heat) can enter your home. If you enjoy outdoor living, you will find that folding arm awnings come at a fraction of the cost compared to a whole roof being constructed above your deck, patio or outdoor entertainment area.
For a free measure & quote