Quality Panel Glides at Great Prices
Panel glide blinds slide across glass areas, including windows and doors, and are a contemporary alternative to vertical blinds. They are streamlined and compact, making them perfect for homes with minimalist décor, and their sleek lines offer an impressive style.
Panel glide blinds are an excellent choice for light and privacy control, but they also open your window and door spaces so that you attain uninterrupted views. These are perfect for family homes, where you want to merge your outdoor and indoor living spaces and make the most of the valued Australian climate. Panel glides are an innovative and stylish choice in window furnishings.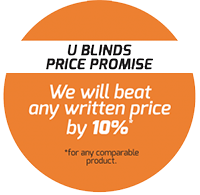 Features & Benefits of Panel Glide Blinds
Looking for curtains and blinds for your home? You can check out our extensive range online or contact us for a free measure and quote on any of our products. Or why not head to your nearest showroom to see our window treatments in person? If you have any questions, be sure to contact U Blinds Australia and one of our friendly staff members will be in touch shortly to help you with any blinds, shutters or awnings needs.
Frequently Asked Questions
For a free measure & quote