Quality Curtains at Great Prices
Curtains offer the joy of soft, warm fabrics that enhance the ambience of your home.
Their function is to control the light, temperature and privacy of your rooms; however, they also offer aesthetics and style.
Their versatility makes them incredibly popular and you will certainly find a choice of curtains to suit your needs. Our range of curtains is diverse and inspiring, including a multitude of colours and fabrics in sheer, light filter and light block-out styles. Personalise your custom-made curtains with different styles of headings to suit decorator rods and tracking types. Curtains will transform your living space, through decoration and practicality.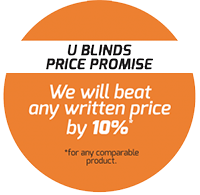 Refreshing the look of your home doesn't always require expensive renovations – it can be as simple as updating your current window coverings to a brand-new pair of curtains.
Whether you're looking for some heavy, dramatic curtains to cover your living room doors or light, whimsy drapes to allow the light to trickle in, U Blinds has the perfect window coverings for you. Traditional style homeowners will find endless joy with our range of pinch pleated curtains, perfect for both blocking out the light and making a statement. Or for a casual, coastal feel, sunshine lovers can recreate the feel of a beachfront villa with luxurious sheer linen cotton drapes – no matter the theme, we have numerous curtains available to compliment your style.
Our custom curtains can be made to fit any window or door and come with a series of tailored additions such as window valances, tiebacks and holdbacks. You can have the same style of curtain throughout your entire home, or mix it up with difference density of fabrics, colours or shades – it's up to you!
Frequently Asked Questions
There are many styles of curtains on the market, categorised based on things such as the type of fabric, purpose, style of the material or even the hanging method. You can find out more about the different types of curtains on our blog.
If you'd like help choosing the right custom curtains for your room, please get in touch and one of our friendly consultants will get back to you.
For a free measure & quote