Blinds Brisbane | Shutters Brisbane | Awnings Brisbane
U Blinds Australia – Brisbane
U Blinds Price Promise: We will beat any written price by 10% for any comparable product
Are you on the hunt for new blinds, shutters and awnings for you home? At U Blinds, we have a large range of window furnishing solutions that will instantly transform the look of your space. Not only are our window coverings a beautiful addition to your home, but they also offer a number of benefits including temperature control, privacy, and protection from the elements. U Blinds window coverings are available in many different sizes, shapes, styles, and colours, and can be custom fit for any window frame. For quality blinds, shutters and awnings at fantastic prices, talk to a member at U Blinds Brisbane today for a no obligation free measurement and quote.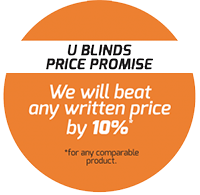 At U Blinds Brisbane, we specialise in high-quality blinds that will suit every style of home. Whether you're looking for a simple and clean look for a small window or a modern sliding feature for a door, we have the right window furnishing solution for you. Shop our range of blinds Brisbane wide to instantly transform your room into a sleek, contemporary space today.
Looking for shutters Brisbane wide? It's impossible to deny the timeless beauty of shutters, which is why we offer such an extensive range of gorgeous shutters. For a natural, earthy look, why not check out our timber plantation shutters, perfect for both the living room and adorning an outdoor area. Or something that can bare even the most extreme elements, look at our sturdy aluminium shutters, ideal for entertainment areas. For quality shutters Brisbane homeowners trust, choose U Blinds.
Protect your home from the harsh Queensland weather in style, with our range of awnings Brisbane wide. U Blinds & awnings Brisbane offers awnings in various options, ranging from hand crank to motorisation, pivot arm and fixed. Entertain outdoors knowing your guests are protected from sunlight, rain, and pesky insects with U Blinds easy-to-use awnings – perfect for both homes and commercial venues.
Trying to find the perfect curtains Brisbane wide? As one of the most traditional window furnishing options available, curtains give you the ability to completely block out light in style. For a dramatic look, consider heavy drapes, which are perfect for keeping the temperature stable and keeping out unwanted views. Or for a light, summery feel, why not incorporate sheer drapes – a favourite for coastal homes. Heavy drapes and sheer curtains can also be used together, so you have the option to block out the outside world when needed, and let the light filter in at times too. Shop curtains Brisbane wide today.
Keep your home protected from intruders in style with our range of security doors Brisbane wide. U Blinds SecureForce security doors are tried and tested and offer durability and strength at an affordable price. Rest assured that no blunt force, knife, or jimmying can cause damage to SecureForce doors, as it's reinforced with marine grade mesh for additional protection. Discuss the right security doors Brisbane wide with one of our window covering experts today.
Where is Your Showroom Located?
U Blinds showroom is located at 31 Depot St, Banyo, 4014 is open from 9 am to 5 pm or by appointment. You can find us by driving down Acacia Avenue towards the train station and taking the right turn down Earnshaw road where you'll see our store nestled in a bustling commercial precinct. For additional convenience, we also offer mobile showrooms for blinds, shutters and awnings Brisbane wide, which you can learn about by enquiring online.
Blinds, shutters, and awnings Brisbane
U Blinds delivers top quality blinds and shutters Brisbane wide, and will beat any written price by 10% for any comparable product. You can search for your nearest showroom or get a free measure and quote with one of our professional window furnishing experts. If you have any questions, please get in contact and a member of our U Blinds Brisbane staff will be in touch shortly. You can call us on 1300 303 391 or via our online form here.
For a free measure & quote