Quality Shutters at Great Prices
There's just something so timelessly stunning about timber shutters. Effortlessly stylish and versatile, timber plantation shutters fit seamlessly into any style of home, whether it's traditional, modern, eclectic or bohemian.
Their ability to instantly transform a space and add value to a home makes timber plantation shutters one of the most popular window coverings, and a cost-effective renovation solution. When installed correctly, you can expect your timber window shutters to last for years, if not decades. This wise investment choice requires very little maintenance, with a simple dust and sweep all it takes to keep timber plantation shutters looking fresh and new. If you want a window covering solution that will wow and impress, you can't go with timber plantation shutters.
We have a large range of timber shutters available to suit any colour and décor. Custom made to your specifications and hand finished using the highest quality lacquers and coatings.
Natural beauty and environmentally responsible. U Blinds Basswood and Paulina Plantation Shutter collection is made using timber which is sourced exclusively from Government Approval Forests. Huge colour pallet to choose from, the original Plantation Shutter at its very best.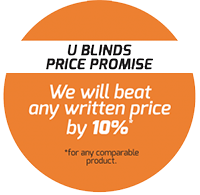 Looking for timber window shutters?
We'll beat any written price by 10% for any comparable product
Finished in UV Resistant High Tensile Coatings.
Choice of Rotation Rods at no extra Cost.
Large colour range available to suit any style and décor.
Frequently Asked Questions
Plantation shutters can be made from a variety of materials, including timber, but also PVC. Find out more about the entire range of shutters available at U Blinds Australia.
There are advantages to both types of plantation shutters and which is best will ultimately depend your requirements. Timber plantation shutters are the timeless, long-lasting high quality shutters that you probably have in mind when you think of plantation shutters in general. The PVC variant is more affordable and made to resemble their timber cousins, but they are also heavier. If you do prefer PVC shutters, you can get them from your nearest U Blinds showroom too.
Shutters are the long lasting, low maintenance, and stylish window treatment option that also provides great insulation. Curtains on the other hand are more formal, lower cost option that is also easy and affordable to change depending on your needs. Whether you prefer curtains or shutters, you can get both at your nearest U Blinds Australia store.
Timber plantation shutters are truly timeless and are unlikely to go out of style any time soon. Not only do they look great, they also come with some serious benefits – they are made to last, they can add value to your property, they make your home more energy efficient and do not need high levels of maintenance.
The main reasons why you should definitely give timber plantation shutters a serious consideration are:
Style
Longevity
Value
Energy efficiency
Low maintenance
Looking to Add Timber Shutters to Your Home?
For a free measure & quote